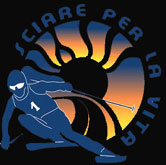 For decades the Eddie Stobart transport company has upheld the tradition of identifying its many trucks with a female name. The drivers can choose a female name to brand their trucks with, a little proof of love an affection to the lady's name they choose.
Some time ago a Cumbrian businessman paid a large sum of money to have the name of a loved one on one of Eddie Stobart trucks, the amount has been entirely donated to charity. There are thousands of people currently on the waiting list to name a Stobart truck to demonstrate the popularity of this UK-based firm, now part of the newly formed Stobart Group.
After Gigi heard this story during his visit to the team, he bounced on the idea of auctioning the naming rights to his car for charity, involving his fans too.
In his case the space put at ones disposal is not on a truck but on his Ford Focus RS WRC of the Stobart VK M-Sport Ford team, and that Gigi is going to drive in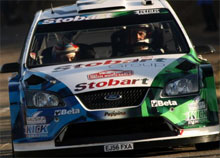 the 2008 FIA World Rally Championship. During each round of the championship, on the front part of his car there will be the name chosen by the kind-hearted person who offered the highest donation.
This will not solve all the problems or difficulties there are in the world but will for sure draw rally fans nearer to situations sometimes very far from them and will give a small contribution to improve these situations.
Approximately one month before each event a new auction is opened on line to the public and fans. The beneficiary charity ONLUS institution that at the end of the year will receive the money gathered, is "Sciare per la Vita" ("Skiing for Life") headed by the former Italian Olympic skier champion Deborah Compagnoni and based in Bormio (Sondrio – Italy). For further information you can visit the website www.sciareperlavita.it or read the preview pdf file.